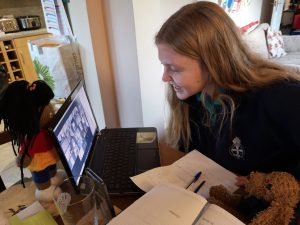 The leaders of 1st Hawkwell held an online GB meeting last week, using video conference technology Zoom, for their n:vestigate and n:gage groups.
Around 20 girls joined in for the group's first attempt at doing GB in this way.
Activities included playing Simon says, a thought for the day, and a story about Gabby and Barney. The girls were also set 2 challenges to work on – creating a rainbow picture to go in the church window, and creating an Easter garden competition.
Parents' feedback included:
'This was wonderful! Thank you so much.'
'This was awesome! My daughter was so chuffed to see her GB pals.'
'That was great, even my 3 year old joined in and loved it when you had to find random objects. Can't wait for next week. Thanks for your efforts.'
Other GB groups could do the same using our GB@home materials but are reminded about safeguarding.
1st Hawkwell Team Leader Sally Claydon says 'The leaders all "met" in the "room" before any girls joined in the call. So there were several leaders on the call including 2 of us acting as "hosts" with ultimate control.'