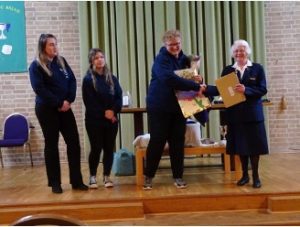 Team Leader Yvonne Yates was presented with GB's Hope Award – an award given out in recognition of activity carried out during a difficult time. In this instance, Yvonne had an unexpected Pulmonary embolism during the pandemic and continued in her dedication to her GB group.
Yvonne says, 'I was delighted to be honoured with this award. I count it a privilege to be allowed the opportunity to work with all these young ladies, watching them grow and flourish on their life's journey.'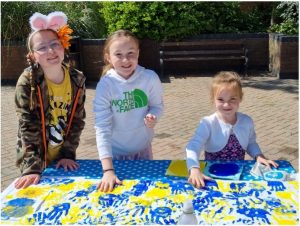 The group also launched their Smile of Sunflowers for this year which saw them joining in with the Easter Egg Hunt in the local shopping centre, potting out sunflowers, making a huge hand-printed picture in support of Ukraine and raising £168 for the 'All We Can' Ukraine Appeal.
At their Young Leaders Weekend, four older members, Tyra, Erin, Freya and Ohenewaa, achieved their next level on the Young Leader scheme, and subsequently, Tyra has stepped forward to be trained as an Adult Leader!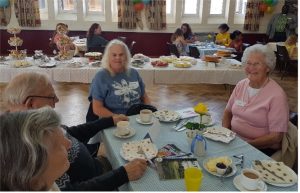 Recently, the group held their 'One Link Afternoon Tea Party for the Young and Young at Heart', which celebrates new friendships between generations in the form of pen pals in an effort to keep the young and old in contact and enjoy sharing time together.
We have also recently shared 3rd Southwick's Jubilee adventures, you can read about them and other groups' Jubilee fun here.
The group is also excited to welcome four new leaders to the group as they undertake their n:fluence 18+ training.