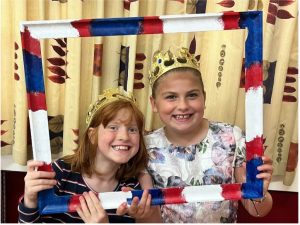 On the 7th June, 3rd Southwick enjoyed their Platinum Jubilee Street party, with 84 girls, family members, leaders and guests joining together for 'Pin the Tail on the Corgi', 'Pin the Diamond on the Queen's Crown', a quiz, a biscuit decorating competition and lots of food!
At 26th Birmingham, girls enjoyed a street style party with a bouncy castle, ice creams and all received a Jubilee badge as a keepsake.
9th Derby also joined together at their evening meeting to enjoy yummy treats to help celebrate.
To celebrate the Jubilee, 5th Northampton had a party. Everyone was invited to come to GB accessorising their uniform with something red, white, or blue, with the n:spire section helping to organise and run some of the activities for the children. The girls enjoyed an evening of games, crafts, and dancing together with lots of jelly and ice cream. Party poppers, flags, and balloons were in abundance! The group also posed for a photo standing on the number 70!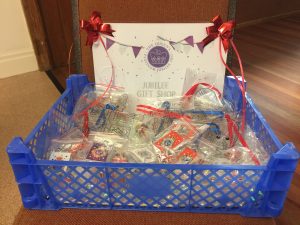 At 1st Kexborough's jubilee party, the group were asked to dress in jubilee-themed colours. Chris Bennett, who is a volunteer at the group as well as an ARMS member decided that her take on this was to go as a "jubilee gift shop"! She took her 'wares' to the party and asked each girl to make a pledge to do a good deed as currency to buy an item. The girls and leaders joined in enthusiastically and received a small gift from Chris – what a lovely idea! The pledges ranged from 'a smile to everyone the next day' to 'to clean a bedroom and play room'.
Chris says, 'I hope they were all kept and that it sowed a seed of how we might do some good in whatever small way we can.'