The current readiness level in England and Wales is Green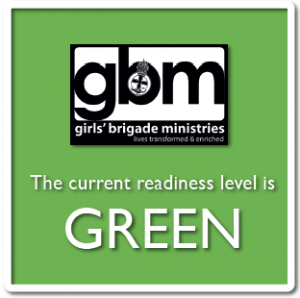 Face coverings for young people and adults aged 11 and over are no longer compulsory when attending GB group activities indoors. Face coverings can, of course, still be worn by choice
Residential events and travel can take place but refer to guidance document for COVID secure measures
No limits on indoor or outdoor group sizes
Same measures apply to all age groups
International trips and visits are now permitted, in line with advice from the Foreign and Commonwealth Office about which countries can be visited. If you'd like to plan an international trip, please speak to us first so we can get advice from our insurers.
---
Guidance on how to meet safely, along with risk assessments and the steps we would expect groups to take to resume face-to-face activities is available to download below. Please make sure you're always working from the latest version of this guidance and that your COVID-19 checklist Part One and risk assessment has been approved by the GB Support Centre.
This allows time for groups to discuss with their leadership team, their church and to brief parents/carers on the steps that will be taken to ensure the safety of their children when activities do resume.​
All GB community group Team Leaders and District Team Leaders are expected to read this guidance.
---
Resources
Delivering an evening's programme risk assessment
Residential events toolkit (editable)
Template letter to parents/carers (PDF)
Template letter to parents/carers (Word doc)
Guidance webinar – September 2020
COVID-19 update slides (April 2021)
Check out this video clip from GB's President Rachel Gardner sharing her support for GB leaders as lockdown eases.