The current Readiness Level in England and Wales is Yellow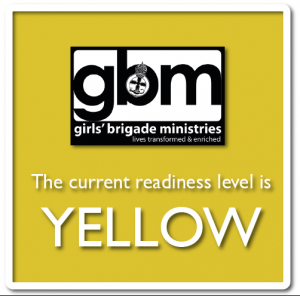 ---
UPDATE 19/07/2021:
GB groups in England continue to operate at Yellow Readiness, but a number of restrictions have been removed. Groups should continue to operate in a COVID-19 responsible way, this means that groups should continue to:
Have a risk assessment in place
Have completed the COVID-19 Checklist and have approval from their church to resume face-to-face activities
Ensure good hand hygiene and cleanliness regimes are implemented
Face coverings are expected, and highly recommended in small unventilated spaces such as small rooms without windows, where close contact work is taking place, and when using transport
Social distancing is also expected, and highly recommended in small unventilated rooms/venues
Social distancing and the use of face coverings should be considered and reviewed with your leadership team and/or young people/parents where you have individuals who would be highly vulnerable to COVID-19.
In England there are no limits on group size for under and over 18s meeting indoors or outdoors. However, you should consider the impact on your group if a member tests positive for COVID-19 and all members were to isolate and plan your group size accordingly.
Day trips and visits are permitted but you should ensure you understand any COVID-19 responsible requirements put in place by the venue as these may differ to GB's guidance.
Travel by minibus, taxi, public transport, or private car (subject to safeguarding) are permitted.
Residentials are permitted and there are no restrictions on group size. However, you should ensure that you understand any COVID-19 responsible requirements your venue will require. Young people and leaders should sleep no more than six to a room/tent. Lateral flow testing is still required. You should also ensure that you put sufficient measures in place to provide a COVID-19 responsible environment.
Singing is permitted but please check your church's stance on this.
GB groups in Wales
For groups that are made up of under 18s i.e. those who were 17 or under at the start of the school year (before 31.8.2020), there are no constraints on group sizes. However, you'll need to ensure that your groups can safely meet in your venue and continue to meet all COVID-19 secure requirements including 2m social distancing, hygiene requirements, and the use of face coverings for those 11 years and older, as well as maintaining safe ratios of leaders to young people. Groups should be kept as consistent as possible. If you feel more comfortable sticking to the previous limit of 15 plus leaders then please do so.
For groups that are made up of over 18s or contain under and over 18s, the limits for meeting outdoors have been removed.
Residential are permitted for up to 30 young people aged under 18 plus leaders and carers. Sleeping arrangements will be clarified once confirmed by the Welsh Government. For groups including over 18s, residentials are permitted for up to six using single occupancy accommodation.
You should also consult with your church to ensure that the steps you are putting in place are in line with your church guidance which may differ from that of Girls' Brigade, following the higher expectation where there are differences.
Risk assessments and COVID-19 Checklists for any groups planning to return in September will need to be submitted to the GB Support Centre by 31 July if we're to be able to have these approved by the end of August.
If your risk assessment has already been approved then you don't need to resubmit these for approval.
---
UPDATE 21/6/2021:
The National Youth Agency (NYA) have confirmed that from Monday, 21 June 2021, GB groups in England can move to the Yellow Readiness Level for residential activities. The following are changes to our guidance:
For groups that are made up of over 18s or contain under and over 18s, you may participate in a Residential Event but the size of the fixed group is limited to six including leaders. The fixed group should not mix with any other fixed group from your GB group, other GB groups or other youth groups during the residential. You should follow GB's guidance to ensure you remain COVID-19 secure
Any group that is made up of under 18s can participate in a residential event with a group size of up to 30 plus leaders. The same arrangements regarding mixing with other fixed groups applies
In addition there are a range of steps you'll need to undertake to ensure your residential can take place in a safe and COVID-19 secure way and these can be found in our COVID-19 guidance below
Residential Events for Duke of Edinburgh's Award Expeditions are now permitted in Wales. These must be in small groups of six including leaders and helpers. Groups must not interact with any other group whilst on the expedition, lateral flow tests will be required for all group members and single occupancy accommodation must be used.
We don't know at this stage whether we'll move to the Green Readiness Level later in July, nor what guidance may still be in place, so please don't make any bookings outside of current guidelines as you may incur costs which you're unable to recoup.
---
Guidance on how to meet safely, along with risk assessments and the steps we would expect groups to take to resume face-to-face activities is available to download below. Please make sure you're always working from the latest version of this guidance and that your COVID-19 checklist Part One and risk assessment has been approved by the GB Support Centre.
This allows time for groups to discuss with their leadership team, their church and to brief parents/carers on the steps that will be taken to ensure the safety of their children when activities do resume.​
All GB community group Team Leaders and District Team Leaders are expected to read this guidance.
---
Resources
Delivering an evening's programme risk assessment
Residential events toolkit (editable)
Template letter to parents/carers (PDF)
Template letter to parents/carers (Word doc)
Guidance webinar – September 2020
COVID-19 update slides (April 2021)
Check out this video clip from GB's President Rachel Gardner sharing her support for GB leaders as lockdown eases.