UPDATE 5/1/2021: Sadly, and with immediate effect, no Girls' Brigade groups in England or Wales can meet for any face-to-face activities, in line with government guidance – England is in national lockdown and Wales is at Alert Level 4. To reiterate, this means ALL GB groups will temporarily close for any face-to-face activities and all group/district/region events/meetings/training days/parents' nights/holidays/Residential Events/DofE expeditions/outings etc. should be cancelled until further notice. This places all groups in Red on our Readiness Levels, which you can see below and on the National Youth Agency website. However, groups can still meet online, as long as a risk assessment is carried out, or you can post resources. Deliveries of resources are allowed but these must be left at someone's doorstep, you must not enter their house, and it must be done as quickly as possible without having a long chat.
UPDATE 19/12/2020: Sadly, from tonight, any Girls' Brigade groups in England in Tier 4 areas can no longer meet for any face-to-face activities, in line with government guidance. This places them in Red on our Readiness Levels, which you can see below, and means they can meet online only. Groups in Tiers 1/2/3 can continue to meet at our Amber Readiness Level. However, there is now a sharp dividing line in terms of the age of the young people we work with. Under 18s are covered by the Amber guidance but those who are 18 and over are covered by the Red guidance – unless they were under the age of 18 on 31 August 2020 in which case they can remain under the Amber guidance. So, if your n:spire group is made up of under 18s and anyone aged 18 and over (i.e. they were aged 18 before 1 September 2020) then you will remain at our Red readiness level, meaning you can only meet online, although you are able to meet outdoors if you wish in groups of six. If your 18s and over are registered with GB as young leaders, then they can continue to help with the younger GB age groups but can't attend n:spire sessions as a 'member' at any point, unless these are online.
—-
We're currently operating at the Red Readiness Level in both England and Wales.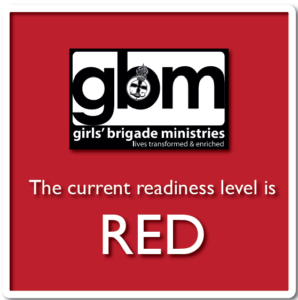 Guidance on how to do this safely, along with risk assessments and the steps we would expect groups to take to resume face-to-face activities is available to download below. Please make sure you're always working from the latest version of this guidance and that your COVID-19 checklist Part One and risk assessment has been approved by the GB Support Centre.
This allows time for groups to discuss with their leadership team, their church and to brief parents/carers on the steps that will be taken to ensure the safety of their children when activities do resume.​
All GB community group Team Leaders and District Team Leaders are expected to read this guidance.
---
Guidance webinar
Below is a recording of our webinar training – please note this doesn't include the updates that have been made to version 2 of our guidance, these can be found in the documents below.
Resources
Delivering an evening's programme risk assessment
Residential events risk assessment
Template letter to parents/carers (PDF)
Template letter to parents/carers (Word doc)
Check out this video clip from GB's President Rachel Gardner sharing her support for GB leaders as lockdown eases.