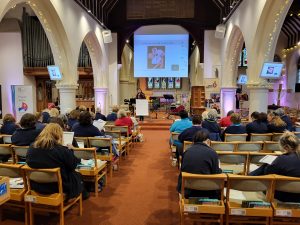 Leaders joined on Zoom and in person at St John's Stoke Church, in Guildford, to hear the latest GB news, worship, enjoy each other's company and more.
Highlights of the day included:
A brief update on our strategy for the next 5 years
Sharing the great news that GB has been given some DCMS funding to help growth
Hearing more about the roll-out of DBS online, which will soon be shared in more detail to Districts
Sharing that GB England & Wales's Milly Heaford has been elected to serve as GB Europe Chair and International Vice President, and that Priscilla Penny has been elected for a second term as GB International President
An update on GB having fit for purpose structures moving forward
The launch of some new GB Trading products.
After the business meeting, the afternoon conference session focused on period positivity and poverty and was led by Beth Henwood, Founding Director of Developing Dignity.
This session included the launch of a resource produced to help GB leaders run a practical session with young people, aged 11 to 18, they work with to address these issues. GB leaders can access this resource for free here.
GBM's Assistant Director Catherine Burt says 'Beth's equipping session was really interesting. It made people think and raised awareness of an issue affecting our members, exactly what's needed to ensure our leaders remain relevant.'
After the equipping session, delegates comments included 'It was an interesting afternoon raising awareness – a real eye-opener' and 'I loved how interactive it was' and 'We're breaking stigma!'
Going forward, some delegates shared how they plan to address the topic of periods and period poverty in their GB groups. One said 'We're going to share information in our group and provide emergency supplies that girls can access discreetly.'