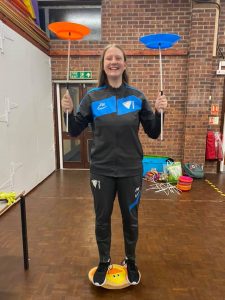 As part of their badgework, the girls looked at how people are different – whether that is because of disability, sexuality, religion, gender, culture, or their hobbies.
Circus skills was a hobby that none of the group had ever tried before, so they were excited to learn more about it. They welcomed a local circus skills teacher, Avril, who taught them lots of tricks with different circus apparatus.
Leader Grace Claydon says 'It was also a great lesson in perseverance, we had to keep trying, keep picking the spinning plates off the floor, keep getting back onto the pedals – none of us got it on our first try. But we didn't give up… and within the evening we'd all managed to get a plate spinning, and even completed a full circle of passing it around everyone in the group!
'It was fantastic to see the girls enjoying this session, and to see them getting excited when they finally did what they'd been trying to do for the past 15 minutes. There was lots of laughter and encouragement throughout our time together. A huge thank you to Avril for teaching us and being patient with us.'