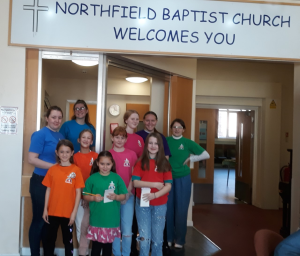 The group hold Saturday coffee shops at least 6 times a year to raise money for, and awareness of, various charities that they choose. The members provide a waitress service, taking orders and delivering items to customers such as tea, coffee, hot chocolate, hot dogs, bacon rolls, toast, tea cakes and homemade cakes.
At their most recent coffee shop they raised funds for Water Aid – a charity which works around the world to ensure people have access to clean water, decent toilets, and good hygiene.
GB Team Leader Shirley Giles says 'The girls do a wonderful job and by doing this it's helped girls get jobs in hospitality in the past, raised their confidence in talking to strangers in a safe environment, and helped the older girls to get food hygiene certificates. Plus, just as importantly, it's allowed our customers to enjoy each other's company, to feel valued by young people, and to make a great difference to the charities they've helped.'
Some of the GB girls are pictured above – the t-shirts they're wearing were designed by the group when they first set up the Saturday coffee shops. On them is a cross with NBC written on (for Northfield Baptist Church), a rainbow logo saying Saturday Coffee Shop, and the word Volunteer.