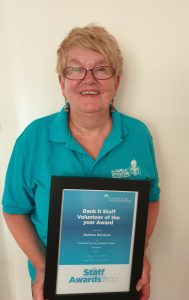 Barbara Rainbow, who is Team Leader of 1st Charlton Kings GB group and District Team Leader for the Cotswold District, won the award under the University's Bank It scheme in which staff record their volunteering hours.
She says 'The University of Gloucestershire, where I work as the co-ordinator of the Sustainability Team, has for many years encouraged volunteering amongst the staff and students, and for the past few years has given an award to the five members of staff with the highest number of volunteering hours.
'I've been in that five for the past four years due to my work with GB. This year they made a shortlist of the top five but decided only to give an award to the member of staff with the highest number of hours, which was me!'
Barbara attended a virtual awards ceremony and, in recognition of her achievement, the university is making a donation of £50 to GB.