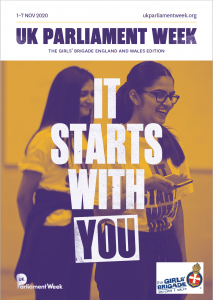 UK Parliament Week (1-7 November) is an annual festival that engages people from across the UK with their UK Parliament, explores what it means to them and empowers them to get involved. GB groups can sign up to run activities to explore how the UK Parliament is relevant to them and their community and empower them to have your say.
Over 3,600 organisations have signed up for UKPW so far, so get signed up and get active on issues that your GB young people are passionate about!
Please bear in mind that UKPW activities might have to be adapted this year. To help you run a great activity wherever you are and whatever the size of your group, UKPW are working on extra digital resources for use at home, or in small groups, or online.