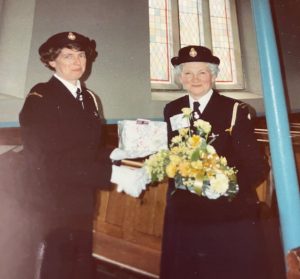 She started the group in 1950 at the age of 22 – one of a long line of pioneering women keen to meet the needs of girls and young women and share the love of God.
Our deepest sympathies, thoughts and prayers are with her family and friends at this sad time.
Mollie, who was also a primary school teacher, played a positive role in the lives of many girls and young women in the Pinchbeck area and GB's South Lincolnshire District, where she was also District Commandant for 22 years. This was a senior leadership role within GB supporting leaders across many groups in the area.
We know she took part in varied activities from camps to awards nights, giving girls and young women a safe space to make friends, learn new skills, and discover the difference having a Christian faith could make to their lives.
Her niece Sharon says 'Molllie organised many GB camps and outings to lovely places in Devon and Yorkshire. She kept log books of every event and added photos and asked a different girl to write about them. Looking through them is a trip down memory lane.'
We're sure she'll be greatly missed by all who knew her. We thank God for her service to GB and the impact she had as a lovely Christian role model.