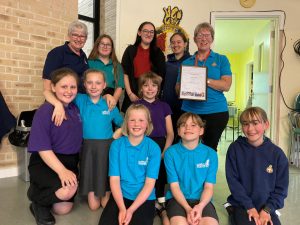 This was the first time that the Girls' and Boys' Brigade groups at Friars Baptist Church had met for a parade service since before the COVID-19 pandemic.
The service was made extra special as District Team Leader, Andrea, attended as a surprise to present Team Leader, Ruth Clark, with her 50-year service award.
Andrea said " It was my great honour and pleasure to attend the GB & BB parade and surprise Ruth by presenting her with her 50-year service award for Girls Brigade. I thanked her for her hard work, commitment, friendship, and above all her sharing of the Christian faith."
Then for the cake cutting…
Congratulations Ruth!