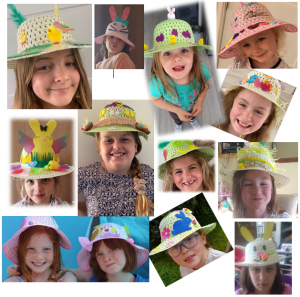 The members of 3rd Southwick group have enjoyed using the GB@home materials over the past few months. The group have had fun taking part in activities such as cake making, writing letters to friends they hadn't seen and making some really impressive Easter bonnets from kits that were sent out to the member's houses!
4th Nottingham have also had a jam-packed year of online meeting – all the way from April right through the summer! A variety for ages met each week for fun activities and games including scavenger hunts, Pictionary, talent shows, bingo, 'Would I Lie to You', quizzes – picture and questions, Scattergories, countdown and many more! Challenges were set during the lockdown period too, such as a sunflower growing competition, a cake decorating competition and even a 'Hope' picture competition where the entries were sent a local care home.
When the group would meet at church, the older girls and leaders while sharing snacks – biscuits, pizzas, cakes etc., would share something good that has happened during the week, write this on a slip of paper with the date and put in a box, at the end of the year they would take time to open the boxes and remind the group of all the things they have experienced. It's wonderful to hear that the group has continued to share (without the boxes), so that they can pray for anything that is raised.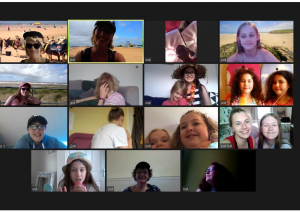 In July, the group should have been going on a trip to Skegness, so seized the opportunity to go on the trip virtually! Everyone dressed ready for the seaside and had buckets and spades, surfboards, sun hats, ice lollies etc. 'On the way', the group sang songs and played Simon says!
Team Leader Pat says, 'The emphasis for the whole time was on fun and sharing. At the end of the summer, one of our older girls left to go to university so we held a Zoom disco night – which was good fun.
'Although this year has been different it has given us all the chance to recharge our batteries and continue to work with the girls. We have had some fantastic times.'
It's also great to hear that after the girls have met each week, the leaders have then had time to meet online together to share and encourage one another.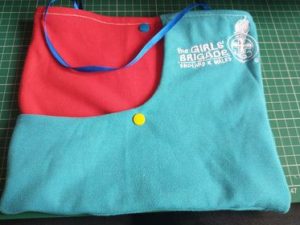 Sarah from 2nd Kettering has been busy repurposing old GB t-shirts to make into a unique bag for her PPE ready for returning to face-to-face GB meetings. What a great idea! I'm sure there are lots of members who have grown out of their t-shirts over the lockdown period, why not try repurposing them yourself?
If you're a GB community group leader or parent then let us know what activities you've been enjoying by emailing us.