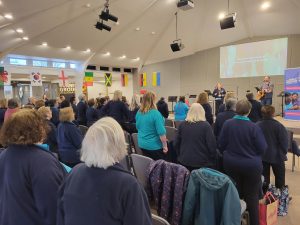 Agenda items on the day included:
Sharing the results of a survey looking at GB's structure leading to the Network Executive's proposal to disband regions
A presentation to GB's Trading Manager Caroline Knowlden to mark her 25 years of service to GB
Elections and appointments – Rebecca Clements re-elected as an under 30s rep on the Network Executive; re-electing our office bearers – Vice Presidents Pam Jenkins, Janice Ogilvie, Kathy Hubbard, and Joy Thoy, Chaplain Rev Gill Newton, and Honorary Treasurer Sara Fagg
An update on the two grants GB has been given from the Uniformed Youth Fund for new groups and new places
And much, much, more!
Comments from GB leaders who attended were 'It's encouraging that GB numbers are increasing to reach more children and young people' and 'It's wonderful to see so many new faces today – GB is still alive and encouraging young people to seek, serve and follow Christ.'
At the same time as the AGM, some leaders were doing Residential Event refresher training or Assistant Leader training. Then, in the afternoon, the sessions were Train the Trainer training and a Life to the Full refresher.
One GB leader said 'Thank you so much for all the knowledge and training today – very helpful.'