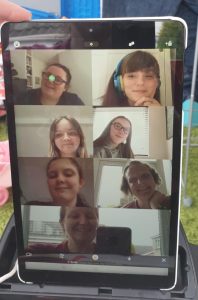 The n:spire section at 18th Sheffield have been holding weekly calls and have managed to work through two challenges since lockdown occurred in March, God Channel – Inspired Words and the Love Channel – Love is…
The group leaders and n:spire members all collaborated to produce an 'Inspired Words COVID Bible' which has been printed and sent to the girls individually.
Leader Jenny says, 'It's been challenging, lightning storms have affected connection etc. but it's lovely to see the girls every week and keep connected. Doing this has enabled three girls to complete enough tracks to achieve their Brigader Brooch this year!'
1st Alford have 'met' over Zoom every Tuesday evening, along with 1st Alford Boys Brigade members.
Team Leader Michelle says, 'We normally do quite a few activities together in the summer months, so thought it would be good to keep meeting together. A typical evening consists of Action Songs, Devotions, Craft (which can be fun if the person doing it camera is back to front – but we manage), sharing time and finish with The Grace with actions.'
During Lockdown, each member was posted a Christian Colouring Book to complete and bring back to GB when they meet where a prize will be given for the best one. The girls also received crafts packs – some hand delivered by the leaders!
On Friday evenings the n:spire section also meet online to take part in 'Youth Alpha'.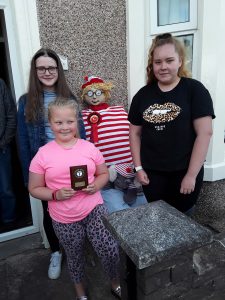 Prizes have been won even during lockdown as 1st Flimby were awarded first place in their village scarecrow festival!
The girls had lots of fun making the scarecrow, managing to socially distance to complete their entry and the festival went ahead despite the rest of the annual carnival having to be cancelled. Some GB members and their prize-winning scarecrow were even featured in the local newspaper.