This resource offers all children and young people a daily challenge, reflection or activity, and is based on GB's cuddly mascot Popcorn the guinea pig. The resource aims to promote values like kindness, joy and love, as well as sharing some Bible stories and has been specially written for this period of lockdown easing and people's plans for the summer being likely to have changed.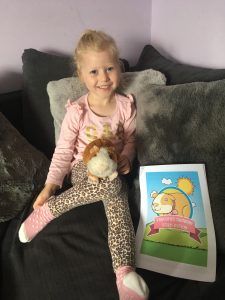 Essi, aged 4, is very excited to have Popcorn staying for the summer! We can't wait to see what they discover and learn together over the next few weeks.
The leaders at 2nd Plymouth are looking forward to using the resource with their members and have emailed or posted the resource out to all girls in their group. They hope to engage young people in their church who aren't GB members too by posting the information in their church magazine – what a great idea!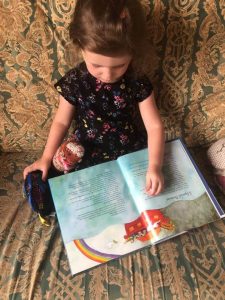 Martha, an n:vestigate member at 1st Alford is loving getting stuck into the resource with her unique crocheted Popcorn and a member of 2nd Worcester park found a fantastic list of creatures in her garden on day 1 of the resource!
At 1st Davyhulme GB group, they are still meeting online each week and incorporating Popcorn's challenges into their activities.
Team Leader Angela says 'We did the activity for today last night at our weekly zoom meeting. We watched a video about Noah and talked about rainbows being symbols of hope. We then made these rainbow fish together. Can't wait to see what popcorn gets up to next.'
Let us know…
Don't forget to get in touch and let us know how you get on with this resource. We want to share positive and hope-filled stories at this time. Why not email us with your stories and ideas?