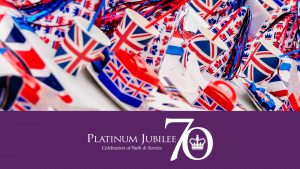 Girls' Brigade has been working with HOPE Together, Boys' Brigade, the Church of England, Pais, Youth for Christ, Youthscape, The Message, and Prayer Spaces In Schools to put together a great range of resources for 11-14s in uniformed organisations, schools, and youth organisations.
These resources, called On Her Majesty's Service, contain ideas for action and videos to use.
Dan Randall, HOPE's YxYA Director says 'The Queen's Platinum Jubilee is a major milestone – 70 years of service to the country and Commonwealth is worth celebrating. The Queen has said that Jesus' life and teaching has been the motivation for her life of service. We want to see a generation of young people who, out their relationship with Jesus, serve others with that same commitment and faithfulness.'
There are 7 sessions to the uniformed organisations' resource set and these have just been released. You can find these here.
GB has also produced a modifications sheet, suggesting ways you can use these resources with children in our younger age sections. You can find these here.
Plus, watch this space for details of a special Platinum Jubilee badge being released by GB – perfect to present as a commemorative token or for those who've used these resources.