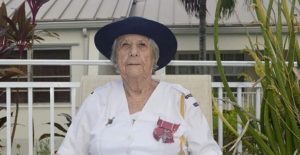 Olive Miller was a pioneer and throughout her life she continued to promote Girls' Brigade and Christian values, making a significant contribution to both the life of Girls' Brigade and the Cayman Islands.
Originally from Essex, Olive travelled to the Caribbean as a missionary youth worker for the Church of Scotland  in 1946 and quickly established the Girls' Guildry in Jamaica and the Cayman Islands.  She served two terms as International Vice President of Girls' Brigade, from 1968 – 1973 and then from 1978 – 1983. She was also appointed an International Vice Patron in 1983.
Throughout her life she remained committed to the work of GB continuing to participate in the life of GB in the Cayman Islands.   Her strong faith and leadership positively impacted the lives of thousands of girls and young women and wider with the Cayman community.
We give thanks for a life committed to serving God and sharing his love.
Mrs Miller's funeral and celebration of her life will take place on Saturday, 6 June at 9pm uk time and will be broadcast online due to the current coronavirus restrictions in place in the Cayman Islands – https://www.youtube.com/user/CIGovtInfoServices