Dawn, who has been the MP for Brent Central since 2015, was the first elected African-Caribbean woman to become a government minister in the UK. And, until earlier this month, she was also the Shadow Secretary of State for Women and Equalities.
She has fond memories of her time in GB in the 1970s and 80s and late last year shared on social media a photo of her GB membership card.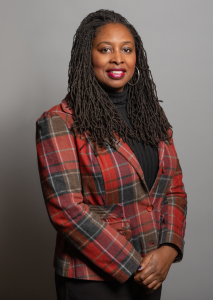 She says 'I'd been to see my Mum and she gave it to me, and it was good to have my memories of GB prompted. I think GB is great and still very relevant now. Providing a safe place where all kinds of girls and women can get together to share experiences and build friendships is one of the most valuable gifts you can give somebody and a valuable component of a young person's growth.'
Dawn, now aged 50, joined GB after her parents found out about it through church.
She says 'My Mum was quite strict and I wasn't allowed out but I was allowed to go to GB. I remember doing cooking, and also going on camping trips and singing songs around the camp fire and toasting marshmallows. There was a real sense of sisterhood, before I even knew what that meant.
'I also remember playing the trumpet and the drums in the GB band and marching down the road. My experiences in GB were very life-affirming. It was a place where I felt safe and could grow and develop.'