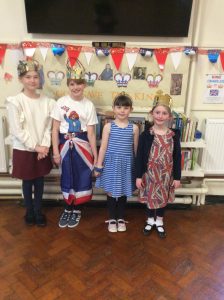 1st Werrington enjoyed a lovely Coronation party and games on 4th May, with members attending wearing red, white, and blue outfits. At the same time, the group also took the opportunity to celebrate 1st Werrington's 37th birthday and the return of leader Gill, who had been away from GB for some time due to illness.
At 1st Leyton, the group made a card for the King and everyone wrote their own prayer asking God to be with the King as he takes on his royal duties. They played some games and painted their hands to make a wreath. The goal is to add group photos to the wreath and place this in a Time Capsule to open again in 5/10 years – what a lovely idea!
Members of 2nd Letchworth Garden City Girls' Brigade and 1st Letchworth Garden City Boys' Brigade spent The Coronation Weekend on a Narrowboat on the Grand Union Canal in Hertfordshire. Despite the rain on Coronation day, they had a great time and celebrated in style as they navigated the 20-mile route with 33 locks and numerous sittings of wildlife including geese and baby goslings (the group even rescued one family from a lock), swans – including 2 on their nests, a heron, ducks, and an Egyptian goose.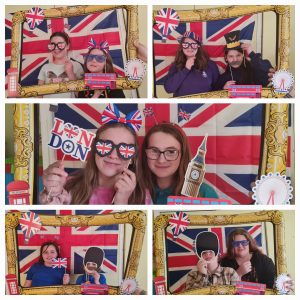 The Fit for a King resource has been used by many groups over the last few weeks, and 1st Fareham. The group learned about the Coronation and all the symbolism. They made and sent a card to congratulate our new King and learned that Jesus is the King of Kings! The group particularly enjoyed seeing the results of the 'Say Cheese' activity, where they had the opportunity to have fun with photo booth props and take photos together to remember the occasion by.
When it came to sowing sunflower seeds, 1st Fareham thought outside of the box by deciding to join with the residents of a local care home and sow the seeds together as part of the Big Help Out. The care home very generously supplied the group with hot chocolate and homemade cookies! A relationship with the care home residents has blossomed and the group will keep in touch with the residents and compare their sunflowers as they grow. They'll be visiting the care home again as part of their next badge for a walk in the community. Team Leader Wendy says 'The thought of more hot chocolate and cookies will probably make that a very popular evening!'
GB member Ezri, from 2nd Barnsley, was invited Barnsley Town Hall recently when she placed as runner-up in a Coronation art competition that she entered through GB. Along with her mum and Team Leader Ruth, they enjoyed a reception with the Barnsley Mayor and young Mayor with a presentation ceremony, refreshments and presentation photos!
We also received some lovely feedback from young people at 7th Brighton, who were lucky enough to attend the Coronation viewing in London on 6 May.
Annis, aged 12 says 'Going to The Coronation was a once-in-a-lifetime opportunity and going with Girls' Brigade made it even more exciting. From the thrilling train journey to the position of front row at Buckingham Palace for the balcony appearance, I loved every moment.  I remember so clearly waving at Queen Camilla and all the other royals and I will truly never forget it.  I am so thankful for Girls' Brigade leaders and everyone else who put this wonderful day together.  I will look back at the Coronation and remember in the years to come when I took a trip to London, spent the day with friends, took part in the legendary parade, waved at cameras as we went along, and will treasure these memories forever. Getting home, tucked up in my warm bed, and realising that I had been on BBC tv and on Britain's most famous family, William and Kate's Instagram page was just the icing on the cake. I truly loved Coronation Day!'
Chloe, aged 15 says 'I thoroughly enjoyed my trip to The Coronation. It was an excellent experience. My favourite part of the trip was the front row of the stand to watch the processions and all the different servicepeople from different countries trooping up and down The Mall.  Although the rain was pouring down it did not stop us from playing Dobble while we were waiting.  I was fascinated by the gold carriage and how it took 8 horses to pull. 

It was an unforgettable experience and, although there was a lot of waiting around, there was always something to see and take in. I would love to have this experience again, spending time with the girls at Girls' Brigade.  The very early train ride was very exciting in the dark, although it was tiring at 5.25 am. 

At the end of the trip we had a well-deserved pizza.  I was exhausted the next day after the exciting journey but it was worth it because of all the amazing events.'