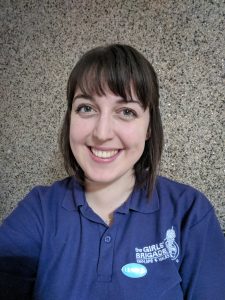 "GB has given me the courage and confidence to speak out for what I believe and for what I know is right.
I'm a keen campaigner for climate justice, and it's so important that we advocate for gender equality in particular as climate changes which mean the most vulnerable are put more at risk.
I've been blessed with an education and a voice and so I want to use these to advocate for those women who have no say in policy-making.
I've been involved with the Ecochurch campaign in Leeds which makes western churches responsible for its global resource use and helping spread understanding across all ages about how our actions here can impact others across the world and in the future.
As part of my university committee role in Envirosoc I ran workshops and seminars around the impact that habits like fast-fashion, plastic waste etc. can have on the planet and people.
My drive to be involved with advocacy and activism started when I was involved with Mission Direct, where I went to the Dominican Republic. We built houses for those who live in slum conditions, so they have better surroundings that are sturdier, not prone to flooding, and earthquake resistant.
Nowadays, I run workshops and talks to raise awareness about those surrounded by toxic water (from textile factories from our demand for the latest trends) and about the people I met in the Dominican Republic, where the shoreline was deep in plastic waste from the ocean. These aren't the things you see on holiday or even in the news enough and so I've been trying to raise awareness through these workshops and seminars.
Climate change when talked about is often very "doom and gloom" and so through my role in Envirosoc and through my conservation volunteering, we try to bring hope.
I often hear people saying "what's the point", "it's too late", "I can't make a difference" and so a key thing I try to project is that there are things that people can do, that there is hope and people aren't alone in trying to solve this."
Share your story
If you have a story you would like to share about your experience with GB, send it to us to add to the website.
Send your story