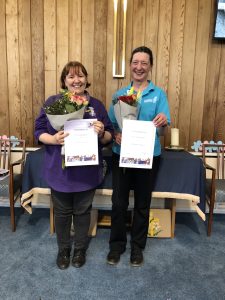 1st Larkfield presented Leaders Marion and Tracy with long service awards at their awards presentation and enrolment evening. Marion, who works with n:vestigate, received her 10-year service award, and was a Helper for 10 years prior to that. Tracy received her 20-year service award and works with the n:gage group.
Team Leader Val says 'The church was full to the brim with the girls and their families, with friends and church members, and we had to add chairs to seat everyone. There were lots of smiles from the girls as badges, certificates, medals, and shields were presented and they were greeted with loud applause from their supporters. It was a joyful occasion and we've had lots of lovely, positive, feedback especially from new families for whom this was their first awards evening. We're so proud of all of our girls and young women for all that they are, and all that they achieve.'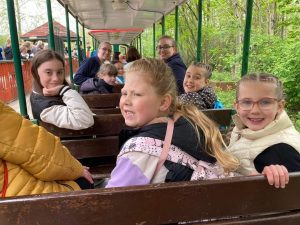 1st Bedworth had a double celebration weekend when the group celebrated its 80th anniversary. As they also took part in the Region 3 day out to Conkers for GB's 130th anniversary – following the trip with dinner and a sleepover at church. The party continued into Sunday as the group were able to join with church for fun games, messy crafts and yummy cake.
In April, 1st Amesbury Girls' Brigade celebrated their 70th anniversary with an outing to Paultons Park in Hampshire.
After weeks of planning, and with everyone excited about what lay ahead, they arrived at Paultons Park with their large group of very excited young people (and leaders), and were met with lovely weather.
With over 70 rides and attractions, the group split into smaller sections and took on every activity that they could. Rollercoasters, water rides, spinning wheels, trains, and so much more were enjoyed without long waiting times or queues.
The group met together again for the penguin feeding at midday and then lunch to discuss their morning of fun.
The return journey was a far quieter trip with very happy, tired, girls.
Leader Anthea says 'It was an incredible way to celebrate 70 years of Girls' Brigade in Amesbury. Everyone agreed that the day had been a wonderful, shared, experience, with lots of laughter and joy. We all had a fantastic time and formed stronger friendships through our shared experiences together. Here's to our next 70 years!'