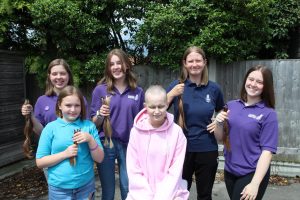 The event was organised by one of the leaders, Jordan, as part of her Queen's Award. Some of the girls had their hair cut to be donated to the Little Princess Trust, who make wigs for children and young people who have experienced hair loss due to cancer treatment. One of the n:spire members at 1st Hawkwell, Nicole, is currently receiving treatment for leukaemia, and has received a wig from the Little Princess Trust, so the group wanted to show their support for her and give back to the Little Princess Trust. The group also encouraged people to sign up to be on the stem cell donation register through DKMS, as many people who have blood cancer will need a bone marrow transplant.
Leader Grace Claydon says,

The team raised over £1,400 to be split between the Little Princess Trust, DKMS and Nicole's family – how amazing is that! They also have 64 inches of hair to donate between them! We are so proud of them for their generosity and bravery. We are continuously proud of Nicole for her strength and courage as she undergoes treatment. It is a privilege to be a part of the GB family and see our girls supporting each other.