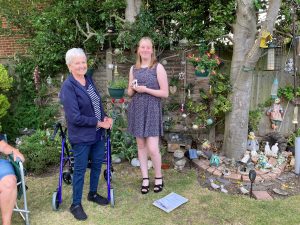 In 2019, Kyrea, now 13, saw her brother was in trouble in the swimming pool when they were on holiday. She didn't hesitate to jump in and kept his head above water until help came.
She's belatedly been presented with a GB Distinguished Service Medal (1st degree) awarded when a child/young person saves a life at risk of their own.
One of the GB leaders at Kyrea's group, Denise Douglas, says 'This was truly a very selfless and brave act at such a young age. Congratulations Kyrea!'
The award was presented in June by International Vice Patron of GB, Jill Clarke, from New Zealand, who was visiting Ruth Clark, Team Leader at 1st Shoeburyness. Jill was also GB's International President between 1998 and 2002.
Denise adds 'Kyrea was unaware she had been awarded this award, which had arrived during COVID in 2021. Ruth had been waiting for an opportune time for her to attend to be presented with it, as Kyrea was also attending boarding school.'