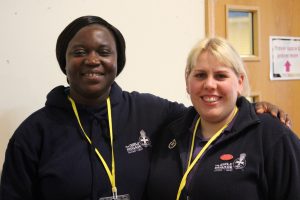 'I think it's easy to take for granted what Girls' Brigade does for you. Once when I was in an interview I said "I did this at GB" or "I learnt that at GB". I realised that people who don't go to GB are missing out on great opportunities.
'Opportunities I've had with GB include going to International events, Remembrance Day parades, getting my Queen's Award and going to camps.
'Now as a leader, I try to give girls and young women as many opportunities as possible.'
'If you took GB away from my life it would be totally different – I'd have a big hole in it, not just because of my GB friends but because I've learnt so much through it.
'I started GB because I was in a music group that met at the church and GB's band leader said if I went to GB I could join the band. I was 14 and played the trumpet. I didn't go to church then but through GB and attending Christian events I became a Christian.
'I was District Team Leader of the Northumberland and Durham District for 3 years and loved the role. I got to develop relationships with lots of people in the district and help move it in a new direction.
'I handed the reigns over before going to Australia for a number of months to work, travel and reconnect with my GB family, who I'd met when studying abroad in Australia in 2007. While there I had the privilege of attending GB International's conference in Perth.
'My Australian adventure was cut short when I got offered a job working for GB England & Wales as a development worker. It was such a difficult decision to make as it was picking between both my passions. Being a development worker was an amazing opportunity to serve GB. I was able to promote the work of GB and birthed a number of new groups in churches that hadn't had GB groups there before.
'Becoming Team Leader of 1st Windy Nook in 2017 was the start of a new journey and has brought me challenges, but I love it. I'm enjoying leading the team and trying new things.
'International GB is still close to my heart. In 2017 I represented GB Europe on the planning team for The Gathering 2017 in Ghana and in 2019 was part of a GB Europe Fizz mission trip to Uganda.
'In 2019, I made an exciting step. I was able to open another new GB group; this time in the church I work in. This was very exciting because the decision to launch the group had taken many years. When I was working as a development worker, Ryton Methodist Church was a church interesting in launching a group, but it never happened. Then, when I started working for the church in 2016, I could see that a GB group would work. Finally, in 2019 the church listened and made the decision to take GB forward. It's worked incredibly, and I can see that God had it planned for many years.'
Share your story
If you have a story you want to share, send it to us to add to the website.