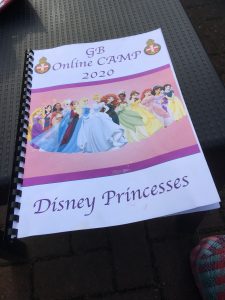 Annual Camp has been modified slightly at 16th Liverpool and 1st South Woodham Ferrers this summer! At 16th Liverpool, the leaders sent out a camp booklet and some sweets to each young person before the camp, then three videos per day over five days for the young people to watch and engage in. The videos included photo challenges, water challenges, TikTok challenges and recipes and demonstrations of the food they would have eaten at camp. Participants took photos of their attempt at the challenges and sent them in each morning via the WhatsApp group.
Team Leader Linda says, 'The 7pm video was our camp devotion time, we took the theme of using four Disney princesses and looked at how they interacted with the Bible verses and everyday life. Three of our older girls: Kim, Rachel and Amie became Disney princesses each evening as they led the devotions. We thank God that the camp was a success and girls and leaders alike were blessed.'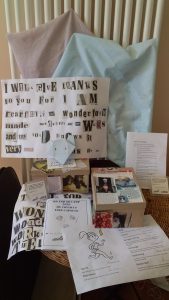 The camp at 1st South Woodham Ferrers was an Olympic games themed camp alongside their Boys' Brigade Company. They had a great time making kites, doing an Olympic games morning (which consisted of a 'sprint' of putting socks on and timing how long it took to put one pair on and the 'marathon' was the time it took to put on and take off 26 pairs of socks) along with other Olympic themed activities. The group also created some origami, went on a virtual treasure hunt around a local town and cooked lemonade scones on the final morning, finishing with a Zoom picnic lunch.
At 1st Uxbridge, to celebrate the end of the school year, they held a 'Big Virtual Get Together' with their Boys' Brigade Company.
Team Leader Stephanie says, 'We have tried our best to keep in touch with our Brigade families via email since March, and it's been really great to have been able to have had a couple of Church Parades in which our youngsters were able to take part.  But what we have really missed this year is all the celebrations at the end of the BB/GB year – our joint Display, Awards Evening and Barbeque.  So we decided to have a BB/GB Big Virtual Get Together at the end of July, thanks to the technical expertise of one of our girls' dads who is also a past member of our BB Company.'
20 families – including one family who joined from Bulgaria where they were visiting relatives – met online for an incredible evening. The young people sent in videos of themselves showcasing their talents – football, playing the piano, recorder, drums and violin, computer animation, dancing, gymnastics, trampolining, canoeing and paddleboarding, singing and a variety of different crafts.  There was a look back at previous displays and events in "A Blast from the Past", and the n:vestigate girls and Anchor boys treated the group to a very special rendition of "Our God is a Great Big God". The resounding message at the end of the event was to remind everyone that they are STILL 1st Uxbridge and WILL be back! It was a very special occasion for everyone who took part and watched.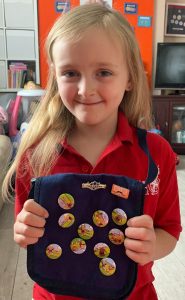 5th Northampton have been trying out a variety of activities, challenges and games to engage with their young people. This began with Easter challenges – making an Easter Bonnet, colouring an Easter egg picture or making a cake and sending pictures to share with their group. The group leaders have also been keeping the girls' brains working hard with several competitions – these proved extremely popular with the girls and all their families. How many buttons in the jar, how many balls in the bag, an 'Alphabet Tray' challenge, how many paperclips in the bottle, can you guess the combined ages of all the girls competition were just a few of the challenges. Birthday cards, GB resources, fundraising ideas and crafts and activity packs have also been distributed to the girls over the last few months and continuing into the summer holidays.
The group leaders decided it was also important to stay connected with parents and carers and set up a WhatsApp group. This proved to be a very constructive decision and created the opportunity to share positive messages to boost morale as well as sharing COVID related guidance and general communications and photos of the activities.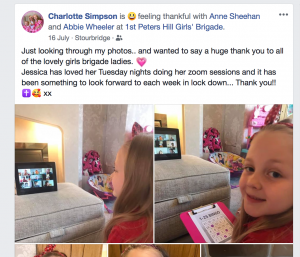 1st Peter's Hill have also been busy delivering online activities in the summer term. They have shared craft activities, devotions, crafts and have even enjoyed a game of bingo together each week. Their last week together was an awards evening to review their year. A cake was even made to help celebrate. The group shared some great feedback from a parent of an n:vestigate member.
It was previously shared that 1st Guildford Girls' Brigade leaders have been actively leading a community response to COVID-19, having set up an association to provide free cooked meals to vulnerable families, now working across Guildford and surrounding villages.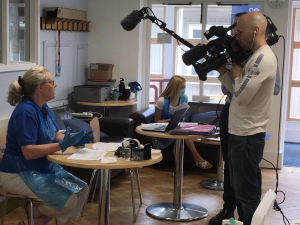 The response is called Stoke Community Support (SCS) and is supported by members of Girls' and Boys' Brigades, St John's and St Peter's churches in Guildford alongside several local schools. An exciting day took place for the SCS team last week when a team from BBC News visited the project. They showed great interest in the work and visited some families during deliveries too. The piece that was aired last Friday featured 1st Guildford's Team Leader, Carol which was great to see and wonderful publicity for the project!
Out of her GB group of 4th Lincoln, leader Hayley has been busy making a range of custom face masks with beautiful materials and patterns to sell for £5 each and raise money for Girls' Brigade as well as mental health charity, Calm.
Hayley was selected to be on the Youth United Foundation youth panel where a study was run on loneliness and mental health in young people, Hayley was selected to represent Girls' Brigade on this panel. She says, 'During this current time, funding and grants have been affected and I am wanting to give back to an amazing charity that has given me some amazing opportunities to work with young people.'
You can support Hayley on her mask making mission at @handmadebyhayleyrona on Instagram.