Here are some of the ways groups have been connecting together…
The members of 4th Sheffield have filmed clips at home for a 'staying in touch' film that they have shared with other members and their parents. Watch their video here.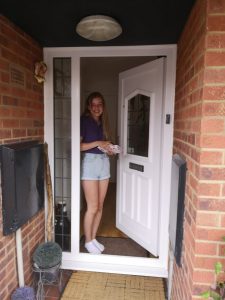 A virtual awards evening was held for the members of 1st Hawkwell after a busy term of activities from home – including a virtual water fight challenge! Certificates and badges were delivered to parents and they were asked to keep them hidden until the Zoom call. Parents were invited to join their daughters on the Zoom where photos and videos accompanied a retelling of all the activities, trips and fun that the girls have had over the past year. When it became time for the special awards, the girls who'd been chosen were asked to go to their front door where one of several GB leaders who were on delivery duty had placed their trophy and prize on the doorstep!
Team Leader Sally says 'It was a really special evening, making the best of the situation we find ourselves in with not being able to meet face-to-face.'
1st Hinckley GB and BB joined up with their Messy Church team to produce their first Messy Parade service which went out last month. It featured songs, a virtual drama four of the leaders filmed together, baking a cake, lots of photos of the challenges their children had been doing as well as videos of prayers and readings from the young people. Hinckley joined up with nearby group 1st Huncote for all their challenges too. Jackie, Team Leader at 1st Hinckley said 'It's been great getting to know children and parents from another group.' 1st Uxbridge also took part in a virtual church parade.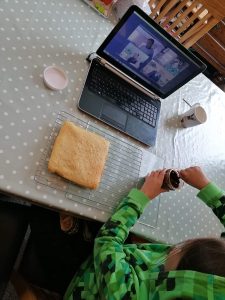 The n:counta and n:spire sections at 1st Burnham were thrilled to have International President Priscilla Penny join them online. The young people learnt about her life and own experiences in Girls' Brigade and enjoyed the opportunity to pray together. At 14th Stoke on Trent, the young people made edible bricks whilst looking at the topic of courage – something the group then prayed for together as the lives and routines of both the young people and leaders begin to change once more. 2nd Arnold were also pleased to see their girls join them on Zoom after creating some leaflets full of encouraging messages and even hand-delivering them to the young people. The members of 1st Clacton-on-Sea received Easter cards and chocolates from their leaders as well as packs to keep them occupied and reminded of GB, filled with activities and badgework. The young people at 21st Castleford have even been treated to a goody bag every month.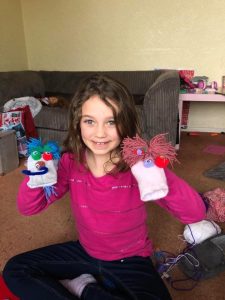 1st Kidderminster have been a very busy group. They have celebrated Easter, held virtual home scavenger hunts, virtually celebrated VE Day, baked and shared recipes, took part in world book night, made sock puppets, saluted Captain Tom, and sent out cards (hugs) to their members… as well as lots of other things!
1st Guildford joined with their local BB group to put on regular online sessions for their young people – even holding a virtual camp over their normal camp weekend in May, which was well received. BB and GB leaders from these groups have been actively leading a community response to COVID-19, having set up an association to provide free cooked meals to vulnerable families, now working across Guildford and surrounding villages. Watch this video featuring Team Leader Carol to see what they have been doing.
If you're a GB community group leader or parent then let us know what activities you've been enjoying by emailing us.