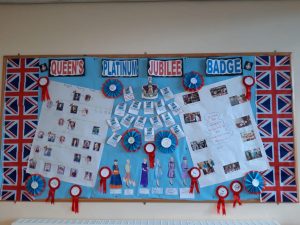 At 4th Nottingham, the n:counta and n:spire members produced a display as part of their badgework which is now on display in the church. The girls learnt so much about the monarchy, learning about the connection between the Queens' coronation and the coronation of Solomon. They even enjoyed eating food the Queen likes!
Despite being one of our smaller groups, the young people attending 2nd Kettering had some lovely craft sessions to help to celebrate the Jubilee.
2nd Polesworth were invited, by the local community group, to enter a Jubilee window competition. The older girls from the group designed and created their entry and local residents complimented the girls' creation, though the winning entry is yet to be announced. Good luck 2nd Polesworth!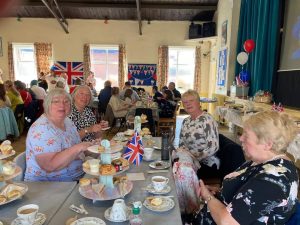 1st Wallsend organised a Queens Platinum Jubilee Afternoon Tea held at Trinity Methodist Church. It was attended by over 60 local residents. The group organised crafts, played bingo, and held a Treasure Hunt for the children. The activities were enjoyed by all.
As part of the Queens Platinum Jubilee badgework, 1st Emsworth decided to give a gift to all the residents in the retirement flats who are neighbours to the church. The members of the group all worked very hard to make a special jubilee card and bookmark for each resident and even gave them a few chocolates to enjoy.  The group delivered them on their last evening before half term, and the girls enjoyed meeting and chatting to some of the residents, who were all very pleased and grateful for their gifts.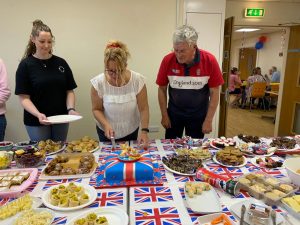 3rd Ryde joined their church party and had a great time playing games, joining the cake competition, pinning the tail on the corgi, teapot designing, and tucking into a delicious afternoon tea with a fabulous celebration cake.
On the lead up to the Jubilee, 1st Loughborough took part in various crafts including making Royal crowns and colourful bunting, baking and taking part in the Platinum Jubilee badgework.
To round off the celebrations, the group held a coffee morning and an afternoon tea – all in the same day! The n:gage group helped to plan the menu and the group had a competition for the design of the event's poster. At the event, there was homemade carrot cake, brownies, classic jam tarts and the best & biggest fruit scones (courtesy of leader, Karen). The group received great reviews of both events and raised some funds in the process.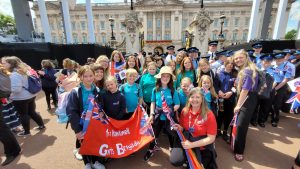 Around 50 members from 4 GB groups also represent GB in the youth enclosure for the Queen's Platinum Jubilee parade, Trooping the Colour, as part of the celebrations.
Young people and leaders from 7th Brighton, 1st Carshalton Beeches, 1st Hawkwell and 1st Sleaford had the opportunity to attend on this amazing occasion and we know it's something that they will remember for a very long time!