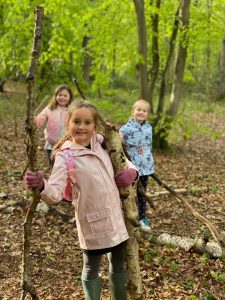 GB members at 1st Hawkwell and 1st Guildford have been out exploring the woods this term…
1st Hawkwell n:vestigate and n:gage braved the rain to build dens together in their local woods. Luckily, the rain stopped and the sun came out, allowing them to enjoy a fantastic evening exploring and discovering God's creation.
For 1st Guildford Girls' Brigade and Boys' Brigade, May half-term should be annual camp week which is always a very special and exciting time that's anticipated all year. Sadly they were unable to hold the camp for the second year running but the leaders were able to plan an amazing 'day camp' instead.
Having only just returned to GB, they anticipated low numbers, but 16 girls joined in for a wonderful day. The girls were divided into 3 groups and rotated around the activities. A system of ropes were set up in the woodland and the girls had to jump onto a swing, and swing across to parallel ropes. Then working as a team, trying not to fall off, they passed a bucket along the line to the end. Another activity involved a series of pulleys which the girls had to maneuver and pick up a bucket of 'toxic waste' and empty it into a container.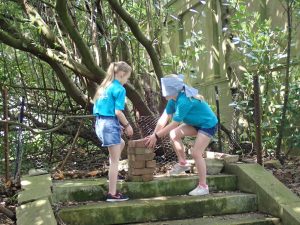 They also enjoyed playing wide games, created 'art attack' pictures from things they found on the ground and had a picnic together. The afternoon was ended around a campfire and with the story of Zaccheaus.
They had beautiful weather and everyone went home tired and happy, celebrating being together again.
Team Leader Carol says,

Thanks to a great team the day was a fantastic success and we're now discussing repeating it next year for the younger girls and boys!