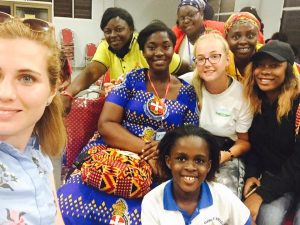 This is an international gathering of the GB global family and is intended as a time of fellowship, learning, worship, and inspiration to feed our leadership of The Girls' Brigade around the world. It is a unique opportunity for GB leaders (local and national) to discover more about our mission in the various world contexts and to have time to discuss together key issues of the Christian mission.  The 2022 conference theme is: RISE IN STRENGTH based on Isaiah 40:1 to 31.
These are the dates and time of upcoming ICGB 2022 events, some are subject to change.
March – there will be an advocacy event relating to the Commission on the Status of Women at the UN and the launch of GB International's new advocacy toolkit.
Saturday 2 April (7-9am, 12-2pm BST) – there will be four online equipping webinars for GB members to choose to attend. Booking will be via eventbrite and any GB member can register to attend one or two events for free.
Saturday 14 May (time TBC) – there will be a networking event that will allow members to meet each other and have some fun. This will be hosted by GB Europe.
Saturday 11 June (time TBC) – there will be a prayer and worship celebration hosted by GB Asia and GB Pacific to celebrate the 129th birthday of Girls' Brigade.
Saturday 30 July (time TBC) – ICGB closing ceremony and election of a new GB International President.
All the events above will be open to all GB members.
Delegate only events
In addition, there will be a number of business meetings for delegates only. Provisional dates are below. Times are to be confirmed in the next two weeks but are likely to be 1100 or 12 noon GMT.
Saturday 23 April
Saturday 21 May
Saturday 25 June
Saturday 23 July
GB England & Wales (GBEW) has the opportunity to provide a team of 10 delegates for the above events.
GBEW's 10 delegates will include members nominated by the Trustee Board/Network Executive and members from the wider GBEW family. In accordance with GB International's recommendations, at least 50 percent of the team will be under 30 years old.
Download an England and Wales delegate application form below and return this to gbco@gb-ministries. Deadline for applications has been extended to Friday, 11 February 2022.