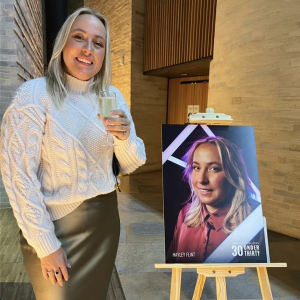 Hayley Flint, from 4th Lincoln community group, attended a special reception and photo shoot at the Lincoln Museum, organised by The Lincolnite and MyLocal.
The event, which is in its fifth year, aims to celebrate youth, innovation and community spirit in the county.
Hayley says 'My friend told me she'd nominated me, but I never thought I'd make the list. There were 191 nominations across Lincolnshire, taken down to 30 by a panel made up from sponsors of the event. I was one of 13 women on the list. Previous winners include music prodigies, entrepreneurs, and professional athletes.'
A bio shared about Hayley says 'Outside of her full-time job, Hayley's commitment to community service is exemplary. She became a member of the 4th Lincoln Girls' Brigade at age 7, progressing to a young leader at 15 and eventually a full leader. She completed the prestigious Queen's Award and has volunteered for the Esther Generation Weekend, a programme aimed at discussing hard-hitting issues like gender justice and mental health stigma. Hayley's commitment to these causes led her to parliament, where she was invited for International Women's Day and also presented findings on a research project focused on mental health and loneliness.
'Locally, she serves as an 11-14s Girls' Brigade leader, a district trainer, a national conference representative, and the deputy commissioner. She also sits on the board of trustees for Girls' Brigade England & Wales. Besides this, she has volunteered at the Unite event with The Boys' Brigade for four years and is slated to be the senior planner for next year's event.
'Despite a packed schedule, Hayley still finds time for personal fitness, underlining her exceptional time-management skills. Her full-time professional role coupled with extensive community service activities make her an ideal candidate for any recognition, showcasing her ability to excel in multiple dimensions.'