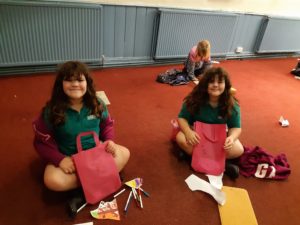 Kerin Adam, North East Somerset District Team Leader and Leader at Trinity GB group, has shared her experiences of starting meeting again…
'Before we even started back, messages were pouring in from parents thanking us for putting everything together in order to resume meeting again, saying just how excited their daughters were. We were overwhelmed by the response we had from parents and their confidence in us and how GB is run. On our first meeting a couple of parents greeted us with tears at just being able to meet up again and so pleased that their daughters could have some semblance of normality in these uncertain times.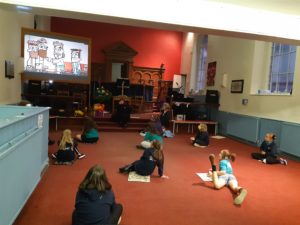 'Despite GB looking so different – signs everywhere (the laminator was out in force!), donated carpet squares so every child had their own space in order that social distancing became a 'fun' thing and not something we have to scare the children with, colourful bags they were able to decorate with all their stationery supplies and the craft for the week, leaders wearing masks – the girls responded so well. They shared their experiences of being in lockdown and we were able to guide them to the good things that God was able to bring out of it.
'Our group is running three separate sessions to cater for all the girls. When n:counta and n:spire met, we worried about how it would be having to ask the girls to wear face masks. Each one came in filled with joy at being back, just wanting to talk and be together. Not one complained about having to wear a face covering, we laughed when we couldn't quite hear each other and supported those who've struggled and missed out on things during this time. You know you've done the right thing when one of the n:counta girls turns and says 'GB is the only place that I can be myself'.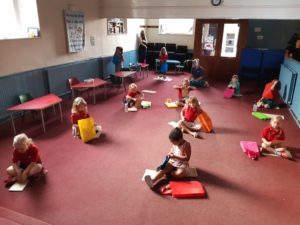 'We thank God that He's enabled us to be in this position that we can meet together again. We don't know how long we'll be able to do this with the situation changing so rapidly around us. But we'll just have to work week by week knowing that our Heavenly Father is with us in everything we do. Knowing that when we feel at our weakest, He is our strength and will sustain us through this time.
'Twice this week our church family were given this verse – Trust in the Lord with all of your heart and lean not on your own understanding. In all your ways acknowledge Him and He will make your paths straight. (Proverbs Ch.3:5-6). Again it confirmed the work we're doing in GB. I don't know about you but the path we're on at the moment doesn't always seem that straight, it's filled with uncertainty, inconsistency, fear and doubt, and sometimes we let that take over our understanding. Yet we are asked to trust in the Lord with all our heart to not rely on what we think we know, not rely on the fear around us.
'We'd just like to encourage other leaders, whether you've been able to start meeting again, or are meeting with girls online or sending activities to girls – God is in it all and we can trust Him!'