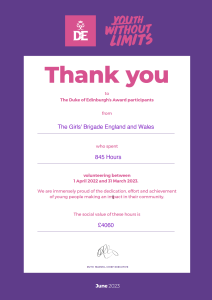 We know volunteering changes lives for the better – that's why it's an integral part of the DofE programme and we know from hearing from our participants that their DofE volunteering has helped them develop a passion for a cause or learn new skills that set them up for their future.
We're so proud of all the young people dedicating their time and energy to volunteering and we're so grateful to all who support young people through the DofE programme.
If you're a GB leader and would like to find out more about running DofE, you can find lots more information here, including a presentation to pitch DofE to your young people.