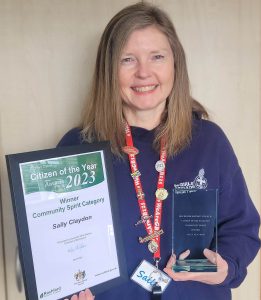 Sally Claydon was given her award by Rochford District Council as part of their Citizen of the Year 2023 Awards.
The award was presented to Sally's daughter Grace, also a Leader at the group, at a civic dinner on 10 March 2023 – sadly Sally wasn't able to attend.
Grace says 'I am so proud of my wonderful Mum, who was celebrated for all her years of volunteering for GB. For more than 25 years she's dedicated her time to equipping, empowering and championing girls and young people, providing them with life-long memories, experiences, and opportunities.
'She constantly strives to learn more about the struggles that young people face in this ever-changing world, educating herself and creating inclusive spaces for young people to be themselves.
'On top of all that, every year she willingly swaps her bed for a sleeping bag on a church hall floor for our annual summer camp, a week that has provided hundreds of happy memories that still make us laugh out loud to this day. She deserves the award for that alone!
'It was an absolute honour to collect this award on behalf of my Mum. She absolutely deserves it, and I'm so proud to be her GB teammate and daughter.'
Sally's award was for community spirit but there were also two other awards for charitable support, and young citizen of the year for under 18s. Then there was a special overall citizen of the year drawn from entries across all three categories.
You can read more about the awards here.