Jessie Emms, from 1st Northallerton, and Hannah Morpeth, from 1st Windy Nook, were both part of the event on 18 March. Along with other GB members from around the world, they were able to present their She Speaks: Young Women on Faith, Social Justice and Transformational Acts session.
The team did a fantastic job demonstrating how faith-based organisations like Girls' Brigade provide girls with access to informal learning, mentorship, and safe spaces for girls as well as helping to shatter the stigma around violence against women, and mental health.
The event was cancelled in 2020 due to COVID-19 and took place virtually this year. Here Jessie shares her experience…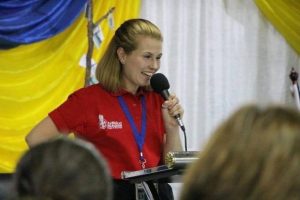 'The highlight of UNCSW for me was definitely being part of Girls' Brigade International's Delegation of Hope. We worked together from day one to deliver the best possible session; She Speaks: Young Women on Faith, Social Justice and Transformational Acts and after all the hard work, time and commitment it was definitely worth it. I'm really proud of the team and what we achieved. I hope each individual member of the team knows how bold and courageous they are. So many gifts, passion and experiences made up our team, which is what made it so special. Over the past year, it's been great to see the team go from strength to strength and I couldn't have asked to be part of a more supportive and inspiring bunch. As well as this, I loved being able to speak on mental wellbeing, as a registered mental health nurse I will never stop talking about this. Mental health is such an important and prominent topic.
'I think Girls' Brigade's presence at UNCSW has made a big difference because we were able to show people why faith-based organisations are so important in achieving gender justice. We've helped turn up the volume of hope in this crucial area. Religion plays a key role in the lives of many people around the world with 84% of the world population associating with a faith. So, faith leaders are often an important and influential factor in many people's lives. They're trusted members of the community and can be agents for change. When people experience an injustice such as gender-based violence, it's often faith-based organisations like the Girls' Brigade who are the "first responders". Our presence was very much needed and will make a difference.'