Jessica, an n:spire member of 2nd Polesworth GB community group, has been designing and making double-sided 'stay safe – rainbow' key rings for a recommended donation of £1 per key ring, collected from a safe social distancing drop-point at her house.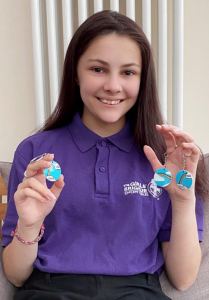 Her GB group Team Leader Christine Harris says 'Jessica is very good at art and likes to help with the noticeboards at GB. We're very proud of her.
'Jessica has a sister, Sophie, who is in our n:gage section and together they also made small gifts which they left on people's doorsteps for those who work in the NHS or care sector. Both girls are very thoughtful and have very supportive parents.'
Jessica, 13, has been in GB for 6 years and her fundraising efforts have also been featured in the Tamworth Herald and by Radio Tamworth. At GB, she helps within the n:vestigate section and is soon going to do her Young Leader Training.
Christine adds 'Jessica is always willing to help at GB and is a smart and punctual member. She's used GB for her volunteering for her DofE Award, which she is doing with school.'
Find out more about Jessica's fundraising on her Facebook page.