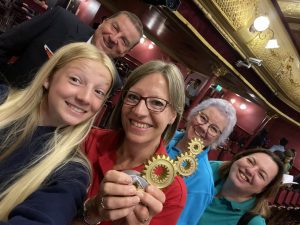 Team Leader Julie from 1st Drighlington won the 'Adult Making a Difference for Young People' category at the awards ceremony. It's lovely to see leaders recognised locally for the difference they're making to children and young people in their community.
The awards night was held at The City Varieties in Leeds and Julie was accompanied and supported by her husband Mark, daughter Jessie, and GB volunteers Bev Stevens and Margaret Newton. 
Julie says 'The event and entertainment were all organised by young people, it was great fun and a most enjoyable evening. Next week I'm invited to an afternoon with The Lady Mayoress of Leeds at The Civic Hall.'
Julie also added that a friend shared with her following her award that if they cut Julie in half, she would have Girls' Brigade written through her like a stick of rock!