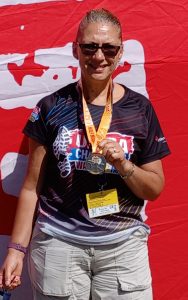 After a year of exercise by walking around their local area in Carshalton, Janice, Team Leader at 1st Carshalton Beeches, and her husband Tony decided to put this to good use and entered the London Bridges Trek in 2020.
Due to COVID-19 restrictions this event was cancelled and changed to the Winter Walk – originally planned for February 2021 but, with restrictions still in place, this was moved to a Summer Walk, with restrictions and numbers lowered to allow social distancing.
Janice says 'It was a lovely summer's day in June to start the half marathon from The Oval around the south and north banks of London up to Tower Bridge and back taking in various familiar, and not so familiar, sites. After 4.5 hours and over 20km later we completed the walk.'
With the help of their friends and family, Janice and Tony were able to raise £345 for GB.
Janice adds 'It was great fun, with a sense of achievement that we were able to do something we enjoyed as well as finding a way to raise money to help GB be there in the future.'