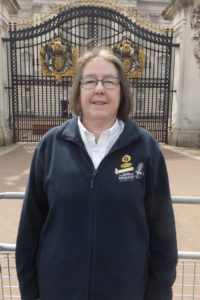 The Queen's Birthday Honours Lists 2020 recognise the outstanding achievements of people across the United Kingdom.
Anne, who has been Team Leader for nearly 40 years, says 'I was honoured and delighted to be able to accept this award not only for myself but for all the GB leaders in our group. It also pleased me that the importance of the work of GB within youth work in general had been recognised in such a way.
'When I received an email in early May saying I'd been nominated for an award and asking if I'd accept one if the Queen graciously decided to award one, I was very surprised and wondered who could have nominated me. So much has happened this year that I really forgot all about it after replying to this email and then, in late September, I got an email to say I had been awarded a British Empire Medal, which was announced on 10 October.
'Many past GB members have been in touch via the group's Facebook page since then expressing congratulations and we hope to celebrate next year at some point as our group turns 95 in April 2021.
'Working in GB is what I love doing and I really missed the face-to-face meetings during lockdown. It's been great starting these up again in September even though it's very strange that I can't work with the whole group at present, just the over 11s group.'
GB's Director Jules Murdy adds 'What wonderful news and very well deserved.
Many congratulations to Anne. It sounds like there will be much to celebrate next year too.'