'I joined Girls' Brigade in 2005 aged 5 and now, 16 years later, at aged 21 I leave with my Brigader Brooch and as an Advanced Young Leader to train to be an ordained minister of the Salvation Army.
'GB has been an essential part of my spiritual journey and getting me to this point in my life. Because of GB I feel equipped and empowered to serve God and follow His plan for me. Over the years, I've experienced so much because of GB and I've met some amazing people, who I'm sure will remain dear friends of mine for many years to come.
'I've found GB to be a place where I'm encouraged to be myself. During stressful times in my life, GB has been a place where I could go to relax and to enjoy fun and creative activities.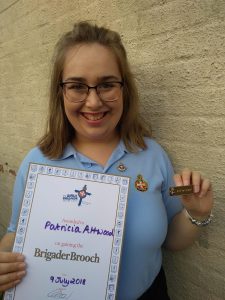 'In particular, I'd like to commend the Young Leaders' training scheme, n:fluence 14-18s, which GB offers to girls aged 14 and up because this programme has given me skills which I'll use throughout my ministry. I've learnt how to plan activities for a wide age range, how to create spaces and opportunities for girls to be themselves and to explore just how much God loves them; I've learnt how to work effectively in a team and also how to support other leaders so that they too are able to develop and flourish.
'GB has taught me the importance and benefits of both serving God and others in order to equip them as disciples. I found through the teaching, that I've both given and received, that my own understanding of what it means to be a woman of God has deepened.
'As I leave GB and begin the next chapter of my life, I look back fondly at all the memories I've made, all the people I've met and everything that I've learnt and gained because of it. Even though I'll no longer be formally a member of GB, in all I do I will make sure to Seek, Serve and Follow Christ.'