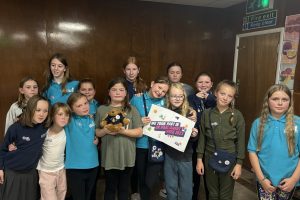 Lots of groups got involved in the activities this year and 2nd Barnsley got in touch to let us know how they spent their UKPW evening.
They began by exploring who some of our government leaders are and how Parliament all works. They even researched who their local MPs are.
The resource included some great games this year and 2nd Barnsley enjoyed getting stuck into those. They played a listen and respond game which uses actions to respond to statements, Big Ben bingo and a board game called The Ayes Have It which has been created especially for UKPW.
Team Leader Ruth says, 'It was a great evening learning more about the monarchy, House of Lords and the House of Commons. We even watched the King opening parliament from the day before. We ended with our own vote about what the girls think about the uniform changes.'
Don't forget to get in touch when you're planning on getting involved in special activities. Share your stories here.