Anna is also a GB member at 4th Newcastle and a Queen's Award recipient and says being part of GB helped equip her for her RNLI role.
She says 'I'm absolutely thrilled to have passed out as the first female helm at Cullercoats Lifeboat. It has been amazing to hear how many women and girls have been inspired off the back of my story already.
'I've been in GB since I was born, and it runs in the family with my gran, mam and sister all involved. My group, 4th Newcastle, and the wider Girls' Brigade has always inspired and encouraged me to be the best woman I can be and empowered me to go out into the world with big aspirations.
'Training to be a helm hasn't been easy but I've worked hard, been well supported and had some great women as role models. GB equips you with skills for life and it's amazing how many of those skills you draw on as you grow older.'
Anna joined the crew when she was 17, after witnessing a person in trouble in the water at Whitley Bay, where she called the 'sea police' to come and carry out a rescue.
At the invitation of the crew, she was soon down at the station to see what the RNLI do firsthand. Following the visit, there was no turning back for Anna as she joined the crew and has been saving lives at sea since. In the intervening years, Anna has trained, being passed as competent crew, tractor driver and most recently as helm – a first for the station as she is the first female helm in the station's 170 year history!
Anna has dedicated herself to saving lives at sea through her voluntary work as a crew member and assessor at Cullercoats RNLI, as well as being the face-to-face fundraising manager for the RNLI in the North East. Now with another string to her bow, Anna will now command the search and rescue vessel on call outs and continue her work training and assessing crew.
Cullercoats RNLI Lifeboat Operations Manager Frank Taylor said: 'It is a tremendous achievement for Anna to pass her Helm training plan and to do so, as she has, with flying colours. We are so proud of her success and that she has become the first female helm at Cullercoats.'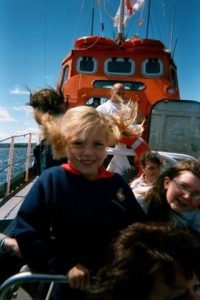 Anna's first ever time on a lifeboat was actually as part of a GB outing. Her mum, Kay Heslop, says 'Anna first stepped into a lifeboat when she was an Explorer, pictured, and her group's marching band played at a local lifeboat fair.
'Fast forward 20 years and Anna has become the first female helm at Cullercoats lifeboat station. This achievement has taken dedication, commitment and overcoming challenges. GB supports the development of girls in many ways – aspiration, commitment and serving others are only some of the qualities.'
Anna, who has been featured on the RNLI website and social media, has a message for all GB members saying 'Just because something hasn't been done before, it doesn't mean it can't be done. Believe in yourself enough to take on your Everest girls, and do it will the full support of Girls' Brigade behind you.'