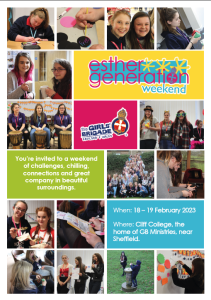 This year there will just be one stream for Queen's Award participants and priority will be given to those who will turn 25 before February 2024.
If you wish to pay by card, please call the GB Support Centre when you submit your booking form (available below).
Places are limited and will be given on a first-come, first-served basis once your application form and £30 deposit have been received.
The £70 cost has already been subsidised, so no further Esther Generation Weekend grants are available from the GB Support Centre. Please consider asking your GB group, district, region or church for a contribution if you feel you'd benefit from extra funding.
Download the Esther Generation 2023 leaflet here
Download the Esther Generation 2023 booking form here