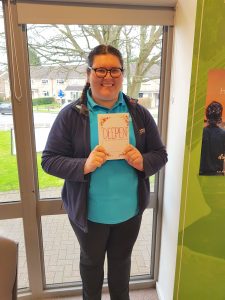 Some of the Deepen books have been distributed at our recent Esther Generation Weekend and spring conference events.
GB's Assistant Director Catherine Burt says 'We're really blessed to have been gifted these Christian journals and hope some of our members will love using them.'
Deepen was written by Andrea Gardiner, currently a GP in Shetland, a mother of 3 daughters, and former missionary doctor in Ecuador for 13 years.
Andrea says 'I grew up in GB England & Wales and gained the Queen's Award, going on to be a leader in GB Scotland. I ran clubs for girls in Ecuador during my time there, very much using the skills I gained during my years in GB.'
Whilst in Ecuador, Andrea wrote a programme exploring the theme Who Am I?, which included resources for the girls she worked with to do with their mums. Out of this came Deepen, which includes questions, quizzes, doodling prompts, prayer prompts and Bible studies.
Andrea adds 'My cousin Zoe Powell, who was also a GB member, designed the cover of the journal for me. I'm gifting the journals to GB in the hope they'll be a blessing to girls and their mums, and also in her memory – as tragically Zoe and 3 of her children lost their lives in a car accident in October 2020. Zoe was a fantastic mother and talented artist. She knew who she was, that she was dearly loved, and lived life authentically and intentionally. My prayer is that in some small way this journal will inspire other girls to know they're treasured and to live their lives to the full.'
If you're a GB England & Wales leader who'd like to be sent some copies of the journal, please email GBCO for details. Postage and packing for up to 6 copies will cost £5, so up to 12 would be £10 and so on. Payment must be made in advance of the books being posted. While stocks last.