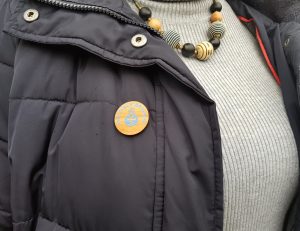 New items this spring include a badge and pen made from sustainable natural bamboo, instead of plastic.
The badges are £2.95 (GBG02414) and feature a brightly-coloured GB crest.
GB Trading Manager Caroline Knowlden says 'The bamboo badge can be worn on any clothing – whether it's GB uniform or just on everyday wear when you're out and about, what a great way to show your support for GB.'
The bamboo pen has our brand new GB Ministries' website address on and is a smart addition to your stationery collection (GBG00153 – £1.60).
Other exciting stationery items include our GB est.1893 pencils, which are manufactured from recycled CD cases (GBG00137 – 70p), and pens, which are made from recycled plastic bottles (GBG00138 – £1.30).
We also have our GB est.1893 bookmarks made from natural recycled leather (GBG00145 – £1.35), and our recycled eco notebook with 70 sheets of plain paper and elasticated closure and pen (GBG00139 – £2.15).
Why not browse our products and buy yours now?