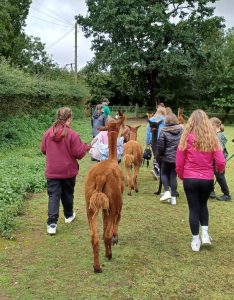 Hull & East Yorkshire District spent a weekend away at Cranedale Activity Centre in July to celebrate. The young people made a time capsule to open in 10 years' time to see how things have changed. They visited Flamingo Land, trekked with alpacas, trained sheep, and fed goats. Everyone had a lovely time despite the rain! The group also spent some time relaxing, with n:gage members making crafts, while older members and leaders had a pamper session, with nail painting, face masks and hair braiding.
Region 6 held an activity day at Tiverton High School to celebrate. Over 140 girls came to celebrate the day. The theme of the day was 130 years of seeking, serving and following Christ across time and countries. The day was filled with different activities, all based on the GB motto. The group took part in crafts, butterfly making, box decorating, circus skills, cake decorating, a treasure hunt, team games, and water activities. The young people even learnt a new dance from Africa.
Amy, a Leader at 37th Bristol, says 'The day was a huge triumph because of the many leaders and helpers involved in planning and accessing materials and whilst we can't thank them all individually a special thank you has to go to Kerin Adam, the District Leader in the North East Somerset District, for co-ordinating this very successful day.
'There was a mad rush for leaders and helpers to get all activities set up as the school caretaker was unfortunately taken ill and unable to unlock the classrooms we were meant to be using. Thankfully someone was looking down on us and the day was a dry and sunny one so almost all activities took place outside.
'It was so nice for the younger girls to meet up with other groups across the region so they could understand that GB is bigger than one evening a night. It was also great for so many older girls to meet up with the friends they had made at n:fluence 14-18s young leader training. We finished the day with a praise party, singing, dancing and, of course, cake!'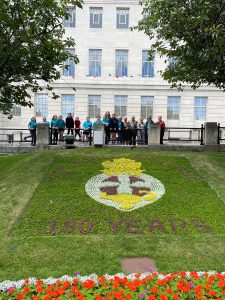 Members of Yorkshire District had a fantastic day celebrating 130 years of GB with a trip to view a flower bed that has been planted in front of the town hall to mark the anniversary. The group were also given a tour of the town hall where they visited the council chambers and parlour. During their visit, they met the mayor and mayoress of Barnsley and did a printing workshop with local artist, Sally Hunter Philburn. After their big tour, the group visited Experience Barnsley, a museum about local history, and Cooper Art Gallery – a gallery that features work by local artists of all ages. District Team Leader Ruth says 'This is why I love GB – fun, friendship and giving girls amazing experiences.'
Greater Manchester District are having an outing in November at Dunam Massey Light Walk to celebrate 130 years of GB, as well as an overdue get-together.
If your group has any anniversary celebrations to share with us, please let us know here.