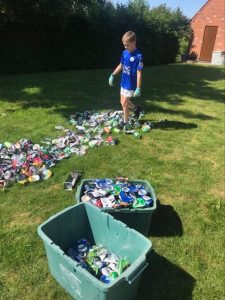 The cans will be turned into a helipad so air ambulances can deliver patients direct to the emergency department at Leicester Royal Infirmary, rather than having to waste precious time transferring critically-ill patients to wheeled ambulances for the last three-quarters of a mile of the journey.
Mark, aged 11, was aiming to collect 6,000 cans in a year but has so far, since January, collected 6,373 in just 6 months. The collection started with the GB group and Mark's close family and friends and now other local community groups in Huncote and Croft are joining in too.
GB Team Leader Amanda Sadler says 'We're so immensely proud of Mark for making the decision to support such a worthy cause. It's something we've all got involved in and it shows such strength of character to commit to the cause throughout this unusual season. "Socially distant" doesn't mean socially inactive. Our social responsibility to each other remains. The can collections are something that's enabled us to continue with reaching out to others and has been a joint focus.'
Mark, who is in the n:counta section of the group, was featured on Facebook and on the Helipads for Hospitals website where you can read more of his story.