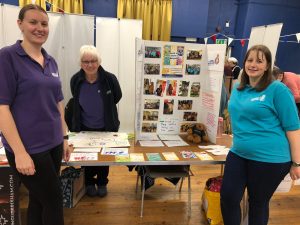 The event, on Saturday 23 October, was organised by Brixham Town Council to honour Brixham's community spirit and provide a platform for community groups to share what they do.
1st Brixham saw this as a perfect opportunity to raise the profile of GB in their area and to gain new members.
Leader Rebekah Thompson says 'We organised a display board to showcase photos from current and past group meetings, including our Zoom meetings during lockdown, and previous camps. This helped as the prospective members were able to recognise current GB girls.
'We asked our young girls before to write down and share what they loved about GB, mainly the games and food. Of course, Fudge the Floppy Dog came along to support us and we provided simple craft for the girls to do while we spoke to their parents.'