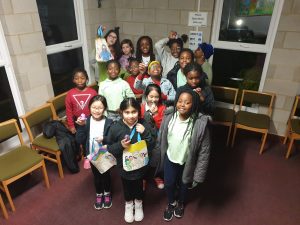 1st Luton spent their last session before half-term decorating eggs with beautiful gems and sequins – very Fabergé inspired! They also decorated Easter-themed tote bags which will be perfect for collecting eggs in over the Easter break!
1st Drighlington took part in the Easter bonnet competition at their church, they made some fantastic entries, so much so that GB member Maisie won the competition. Well done Maisie!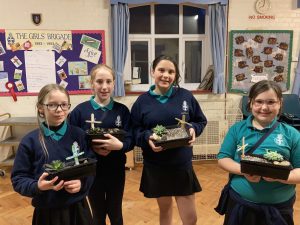 The n:gage section at 1st Hurstpierpoint have been focusing on the Easter Story for their badgework all half-term. Last week, the girls made Easter gardens which they took home, along with pots to replant the succulents, to share with their families. Leader Helen says, 'Most of the plants and resources were donated from the local charity 'The Budding Foundation', in partnership with our local garden centre. Whilst there were sadly some girls away due to illness, the girls that took part in the activity absolutely loved it! They really enjoyed learning about potting succulents, the care they should give them, about lashing sticks together to make a cross, and about the Easter Story.  As we had a few plants to spare, they potted them to give as gifts to the leaders of the group, which was lovely.'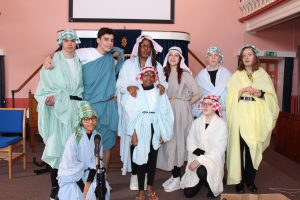 1st Totton made a very imaginative display for their church by using hoops to create a frame for their Easter story. Each section took a different section of the story to make a scene for – donkeys and palms, the Last Supper, the crosses and the tomb.
At 1st Margate, the Girls' and Boys' Brigades across all ages joined together to put on their Passion Play. After delays of two years, the group were well rehearsed and raring to go! What a lovely way to exercise working together!