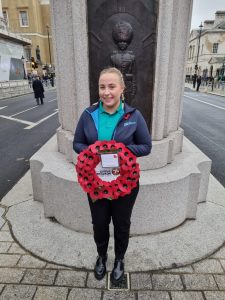 14 young women from various GB groups attended the cenotaph in London as part of the Remembrance Day parade. One of those young women was Hayley, a leader from 4th Lincoln.
Following the event, Hayley said, 'This was an amazing experience. Talking to the veterans who had lined up next to us was amazing, completing the silence with such a large group really filled you with a sense of being together and of being able to mark our respects with the act of Remembrance. Physically marching past the Cenotaph and the memorial for the Women of World War 2 really made me think of all those who fallen or been injured in wars, to both the physical and mental illness that can occur with war. I am thankful for the brief shower as we marched as it hid my tears!'
We've heard from so many groups who have also taken part in a variety of activities closer to home. 4th Sheffield and 5th Derby spent their weekly meetings learning about Remembrance Sunday and making beautiful poppies out of craft materials for display in their churches and memorials over the weekend. 8th Portsmouth, 1st Walsall Wood and 35th Birmingham all took part in a resourceful craft trend this year, making poppies out of used plastic bottles! 35th Birmingham even laid theirs as a beautiful field of poppies in the garden area of their church and at a local community garden.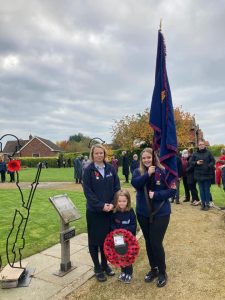 It's lovely to also see that so many other groups braved the winter weather in their smartest uniform and paraded, laid wreaths, carried colours and delivered readings in their local areas – some members as young as four!
9th Hull held a mid-week service with their young people and made some bookmarks for the girls to take home as a reminder of what they had learned.