The past year has been one of the most challenging in GB's 128-year history. We've suspended our weekly group meetings multiple times, written weekly GB@home resources for any child or young person to use as well as 12 new programme booklets for our groups, cancelled events, and postponed crucial work.
Our leaders have been adaptable and innovative – learning new technology and providing online sessions, and across the country they've been making up and delivering activity packs to young people. When it was possible to return to face-to-face activities – GB leaders came up with creative ways to do GB whilst socially distanced. And groups have still had sleepovers and camps, albeit delivered virtually.
Leaders and our young people have continued to build hope in their local communities – whether providing food parcels, meal, raising funds for the NHS or bringing light and cheer to neighbours through sharing their artistic work.
Leaders have been a beacon of light during a difficult year, continuing to provide a safe place for young people to meet, offering prayer and support to their families among a time of anxiety, uncertainty and loss.
GB's Assistant Director Catherine Burt says 'Today is a chance to remember and reflect, but it also gives us a chance to have hope for the year ahead and we think there's no better way to do that than hear direct from some of our members. So it gives us great pleasure to announce the winners of our competition to write a prayer for GB in 2021. We've been blown away by the number of entries and the wonderful words written by our members.'
The competition had 2 categories – one for n:vestigate and n:gage members, judged by Vice Presidents Kathy Hubbard and Pam Jenkins, and one for n:counta and n:spire members, judged by Vice Presidents Dawn Webster and Janice Ogilvie.
n:vestigate/n:gage:
1st prize – Florence from 1st Yeovil
2nd – Abbie from 1st Sawston
3rd – Clara from 30th Nottingham.
Judge Kathy says 'It was a really enjoyable task reading through all the entries and it was encouraging to read such a lot of thoughtful prayers. Pam and I had several conversations, which were a real joy, and I'm so pleased that we came to the same decision… in fact I "accused" Pam of looking over my shoulder!'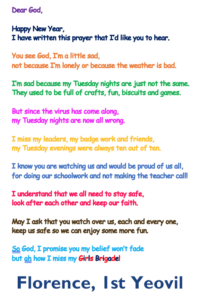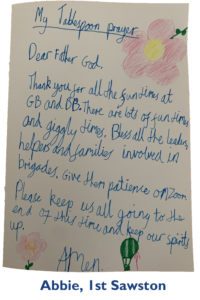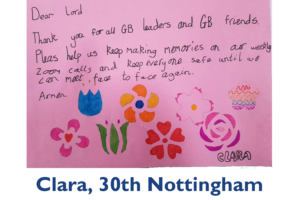 n:counta/n:spire:
1st prize – Jasmine from 30th Nottingham
2nd – Bethany from 1st Burton
3rd – Amy from 1st Saffron Waldron.
Judge Dawn says 'We thought all the girls had done really well in praying for the situation we find ourselves in. There were some meaningful prayers in there. So thank you to them all for taking the time to write these and to share them with us. We enjoyed reading them.'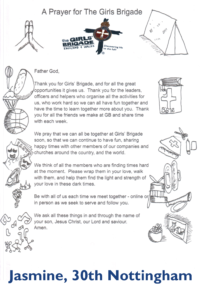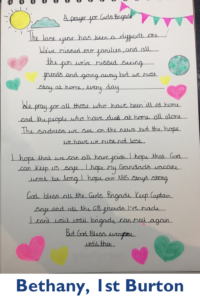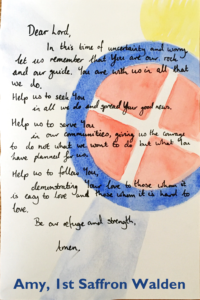 The first prize winner in each age category has won a £20 Amazon voucher and all six winners will be sent certificates.
Catherine adds 'We hope these beautiful prayers encourage you and we look forward to sharing a selection of the other entries will on our social media throughout 2021.'